For many of us, artificial intelligence seems like a distant future where robots will take over our jobs. In reality, AI is already everywhere and many Shopify apps have turned to AI and specifically machine learning to help you work with your data in several different ways.
There are currently less than 100 Shopify apps that employ the use of AI for different types of tasks you might need help with from product recommendations to SEO, video creation, and email marketing. We've had an in-depth look at all AI-driven Shopify apps to select 8 of the best ones, each for a different need.
Disclaimer: Remember that not all of these artificial intelligence apps will be compatible with your store's settings and theme. Here's a quick guide to ensuring the compatibility of your apps.
The MorphL AI app helps all kinds of e-commerce companies optimize their decision-making process, create custom buyer experiences, and speed up their growth. This app offers exclusive access to a series of machine learning models you can implement across your entire buyer's journey. 
The app's complexity stems from the variety of AI-based predictors you can implement on your own store, including:
Shopping Stage 
Cart Abandonment
AI-based Segmentation
User Search Intent 
Next Order Value
Every single one of these models is trained based on data that's gathered from your own store., ensuring full compliance with all AI principles and privacy regulations. You will, however, need to provide a large set of data to ensure you'll get accurate results and not just rough estimations. For this reason, MorphL AI is better suited for Shopify Plus merchants who can put in data from at least 25,000 monthly tracked users. 
Cost
After the 14-day free trial, the app starts at $179/month or $149/month if you opt for an annual payment.
Pros
Clean and modern interface
Access to all AI capabilities from one single app
Can be integrated with Google Analytics or BigQuery
Cons
Not a good option for small stores since you need at least 25,000 users on a monthly basis
You'll need the help of a developer to install the app and create additional custom implementations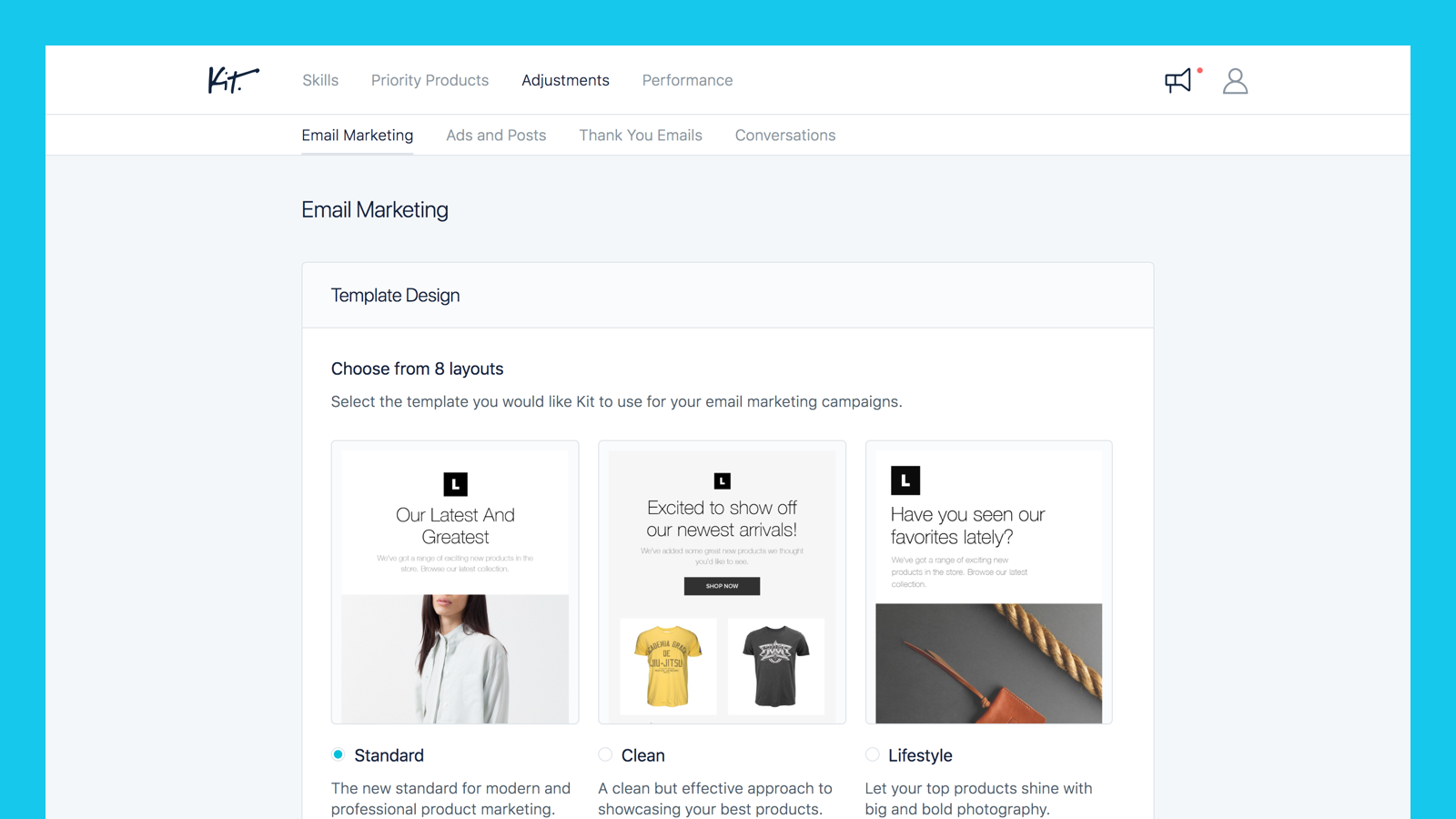 Kit works as a smart marketing assistant store owners can turn to whenever they need a quick idea. It's essentially a chatbot you can ask for help with your Facebook and Instagram ad campaigns and even send thank-you emails to your customers. However, all communication is done via either Shopify Ping or SMS so the app doesn't work from all countries which is the #1 complaint users have made.
Being an AI-powered app, Kit learns more about your marketing needs in time. Some marketing tasks this artificial intelligence app can help with include setting up Facebook ads, posting social media updates, and creating insightful reports on your sales and marketing performance. This Shopify app is suited for all kinds of business owners but those who lack marketing experience will find it especially helpful. The app can help you cut down on costs you'd have to distribute to learning marketing or turning to a marketing professional for occasional help. Plus, Kit is available 24/7.
Cost
Free to install. Extra costs are charged externally by Facebook or Instagram. 
Pros
Easy to install and use
Free to use when not considering the external costs
Multiple integrations available
Cons
Doesn't work for certain countries since an SMS confirmation is required and can't be sent everywhere
Some users have been mentioning that after connecting this app their Facebook apps have been suspended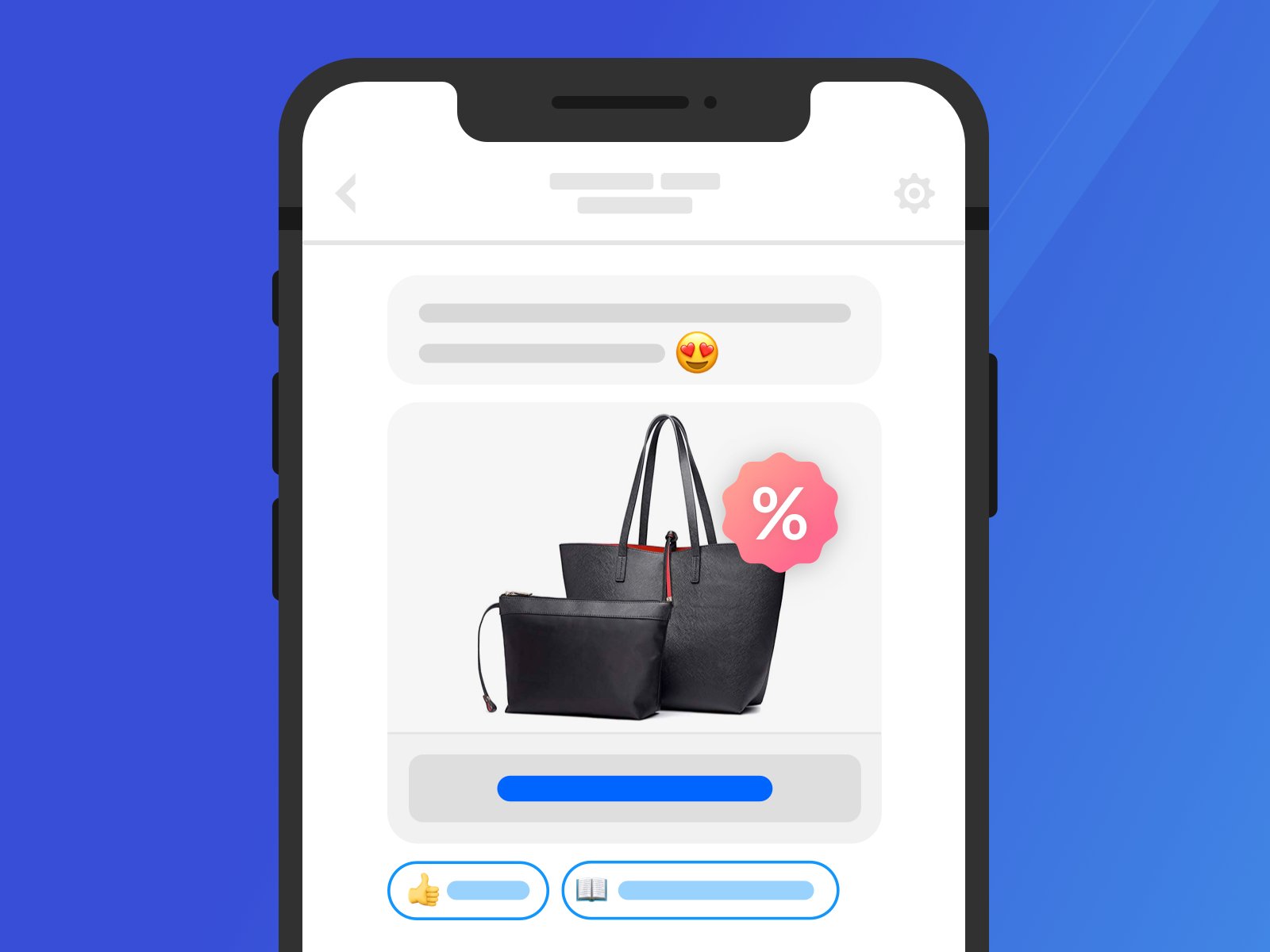 Recart is a Facebook Messenger marketing app that helps you cope with the decrease of email open rates by moving your messaging to Facebook's Messenger. The tool also lets you grow your list and have conversations with your customers to loyalize them and increase the value of your shopping carts.
Over 110,000 merchants are already using this Shopify app to boost their engagement rates and maintain a more personal relationship with customers. The artificial intelligence app lets you replace your newsletters and email sequences with Messenger campaigns and send:
Welcome messages
Abandoned cart reminders
Order receipts
Shipping notifications
Product review requests
"AI will impact the future of e-commerce marketing heavily. Chatbots and AI personalization tools didn't really deliver on their promise in the past few years. Most of the use cases weren't useful enough or didn't have a strong impact on merchants. However, AI developers and vendors started to find better use cases and deliver more impact for e-commerce businesses. I'm very confident that conversational automation and AI-driven personalization will drive massive value to the e-commerce market in 2020.", Soma Toth – CEO & Co-founder Recart
Cost
$29/month following a 28-day trial.
Pros
Multiple integrations available
A variety of features to make use of as you replace your regular sales email sequence
Easy to use and customize
Cons
Only useful if most of your customers are active on Facebook
Customers have been reporting frequent bugs, especially during the installation process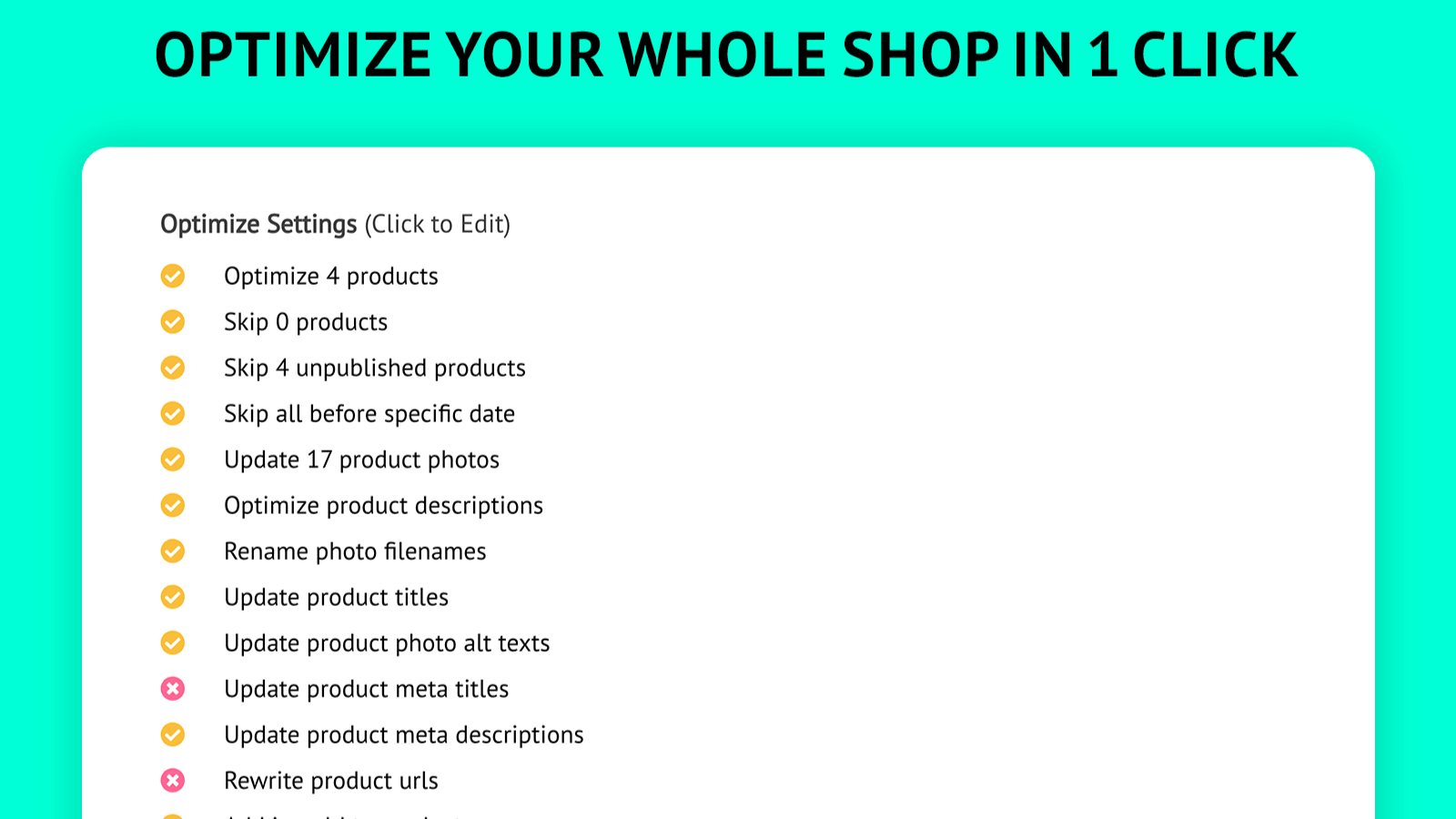 AI for SEO? Yes, please! If you're familiar with Yoast for WordPress, this app can be considered it's alternative but for the search engine optimization of your Shopify store. The tool is primarily aimed at helping you optimize your product photos. SEO King uses AI to suggest popular keywords you can add for your photo file names as well as the alternative text to help you place your product in the top Google Images search results.
A quick scan at the beginning will help you see the main areas that need SEO improvement on your store's website. This artificial intelligence app also resizes and compresses your product images so they can load faster to improve your store's PageSpeed scores. You can even add logos to all of your images and disable right-click to keep them safe from theft.
Cost
The free plan offers basic options such as a free shop scan and bulk alt-texts. Paid plans which include all of the app's features start at $7.99/month for shops with up to 10,000 product photos.
Pros
Free plan availability
Easy to install and use
Clean interface
Multiple SEO features available
Cons
You'll need to check with their support team beforehand to see if your store is compatible with the app as some past customers have noticed SEO King making unwanted changes to their images
Customer support can be slow at times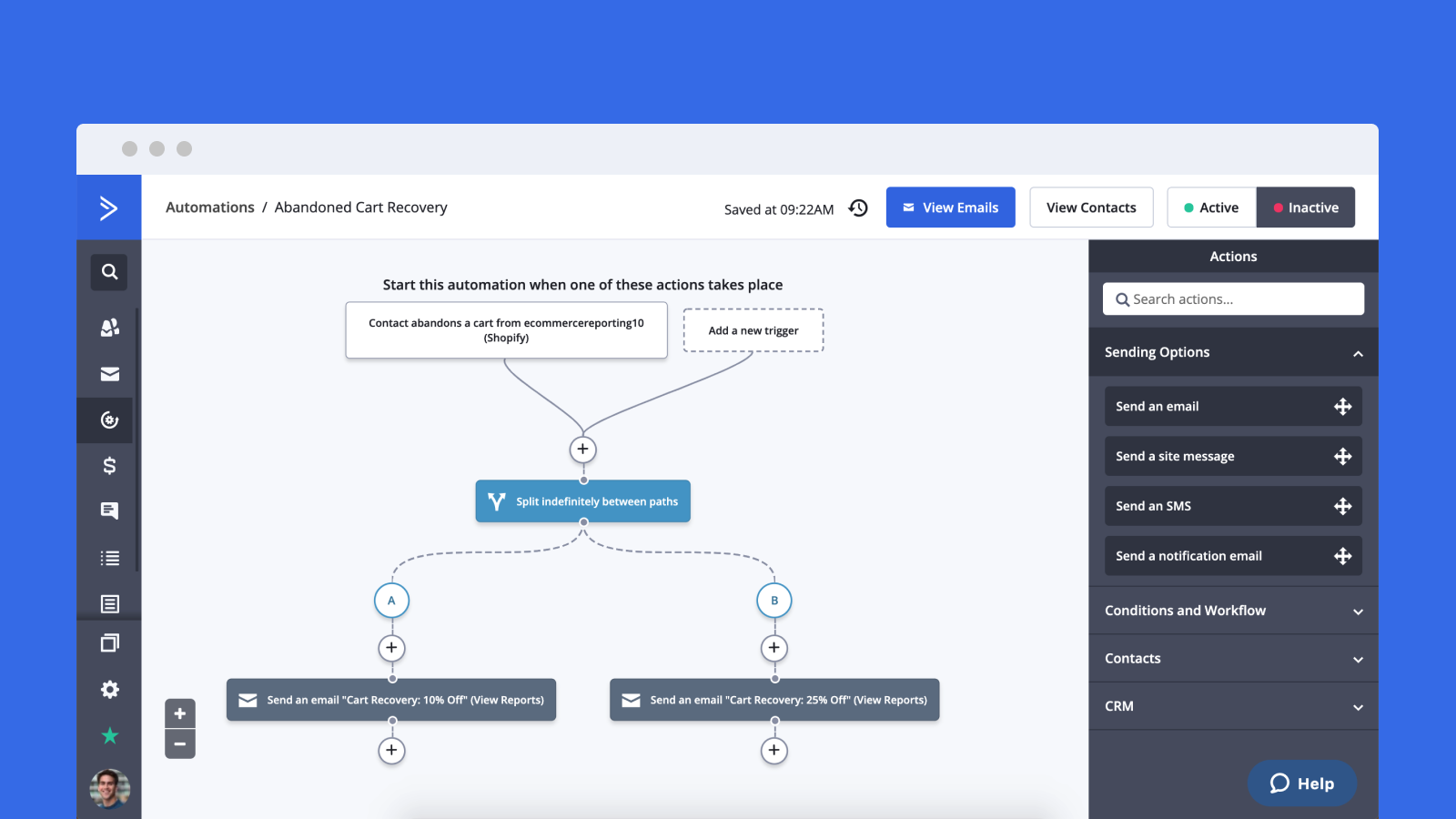 The Shopify-Active Campaign integration allows anyone who's responsible for the marketing of a store to send emails to people who've abandoned their carts, showing them what products they didn't buy and potentially bringing them back to the website. You can also automate the flow of all emails throughout the entire purchase funnel.
The app is primarily used to send messages that will help shop owners upsell, cross-sell, and increase their average order value. Active Campaign employs machine learning to help with predictive sending so you can send the emails at the best possible times according to every single subscriber's timezone. Their predictive content option allows managers to better customize their messages so every person gets the right content in their inboxes. The selection is done based on a series of variants you create by taking into account link and call-to-action clicks.
Cost
14-day free trial available. Plans start at $15/month and include unlimited sending, email marketing, subscription forms, and marketing automation for up to 3 users.
Pros
Predictive content and sending to tailor emails to individual segments
Provides a multitude of extra features for email marketing, all of which are easy to use and implement
Cons
Can get costly if you have more than 3 users taking care of the email marketing efforts
Technical support can be slow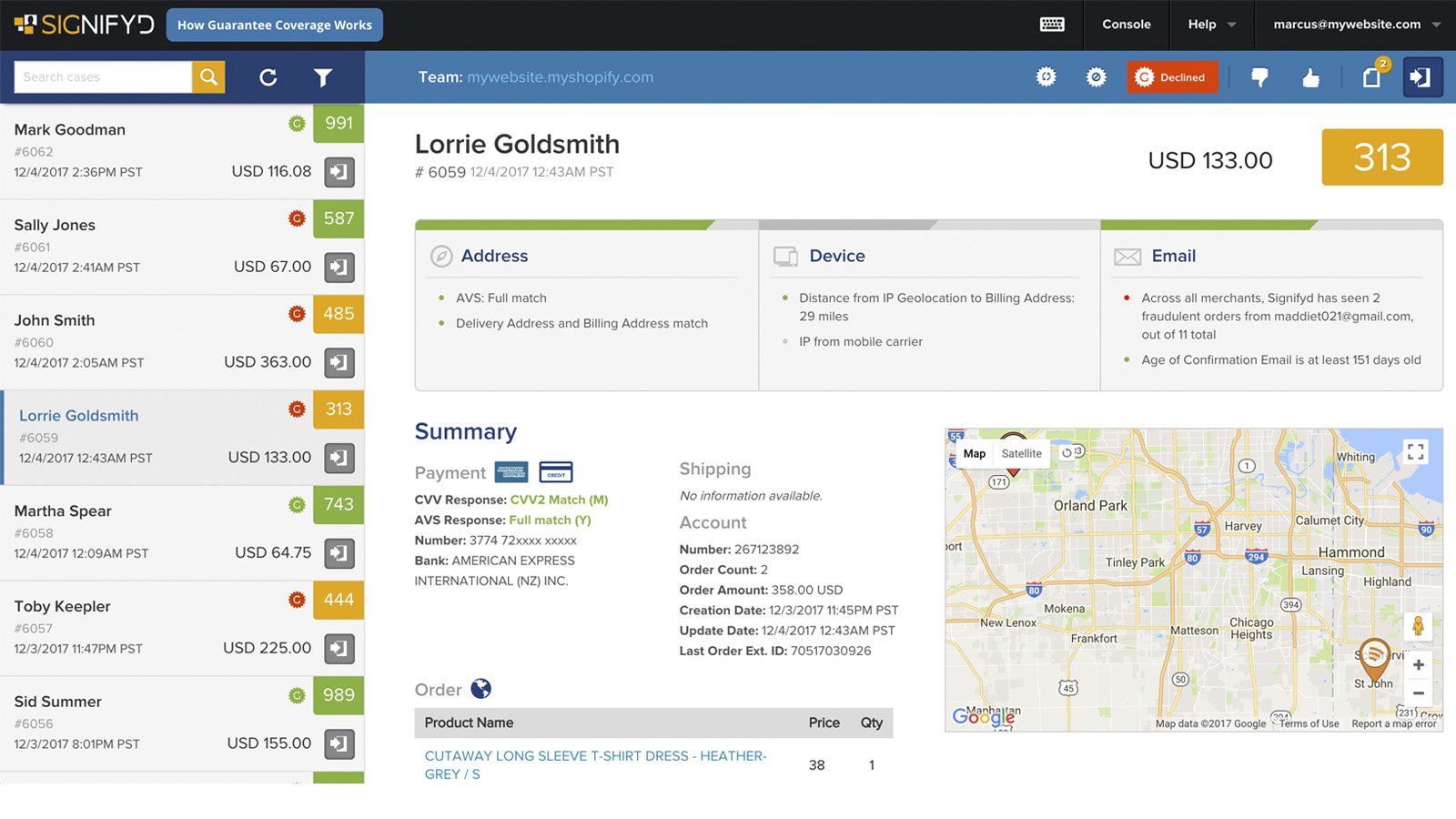 Certain types of businesses require closer attention to their customers. This means you'll want to know who your customers are and ensure their credibility before you shipping expensive or one-of-a-kind items to them. Here's where Signifyd comes in to help you avoid fraud and abuse by leveraging the power of big data, machine learning, and manual reviews from experts. You'll get full transparency of all orders through the Agent Console as well as insight reports so you can spot trends and make better decisions.
The AI-driven app manages all of your chargebacks to help you recover lost revenue and save time you can spend on other tasks that require your full attention and creativity. Signifyd also guarantees an increase in your revenue and conversion rates by as much as 6%.
Cost
$1,500/month after 14 days of trial. A separate pricing list is available for EMEA store owners and you have to reach out to their customer support team for a customized quote.
Pros
Clear UI
Receive a detailed look at all transactions and customers
Complete fraud protection including expert manual reviews of all issues
Cons
Can be an expensive solution for small shops with low revenue levels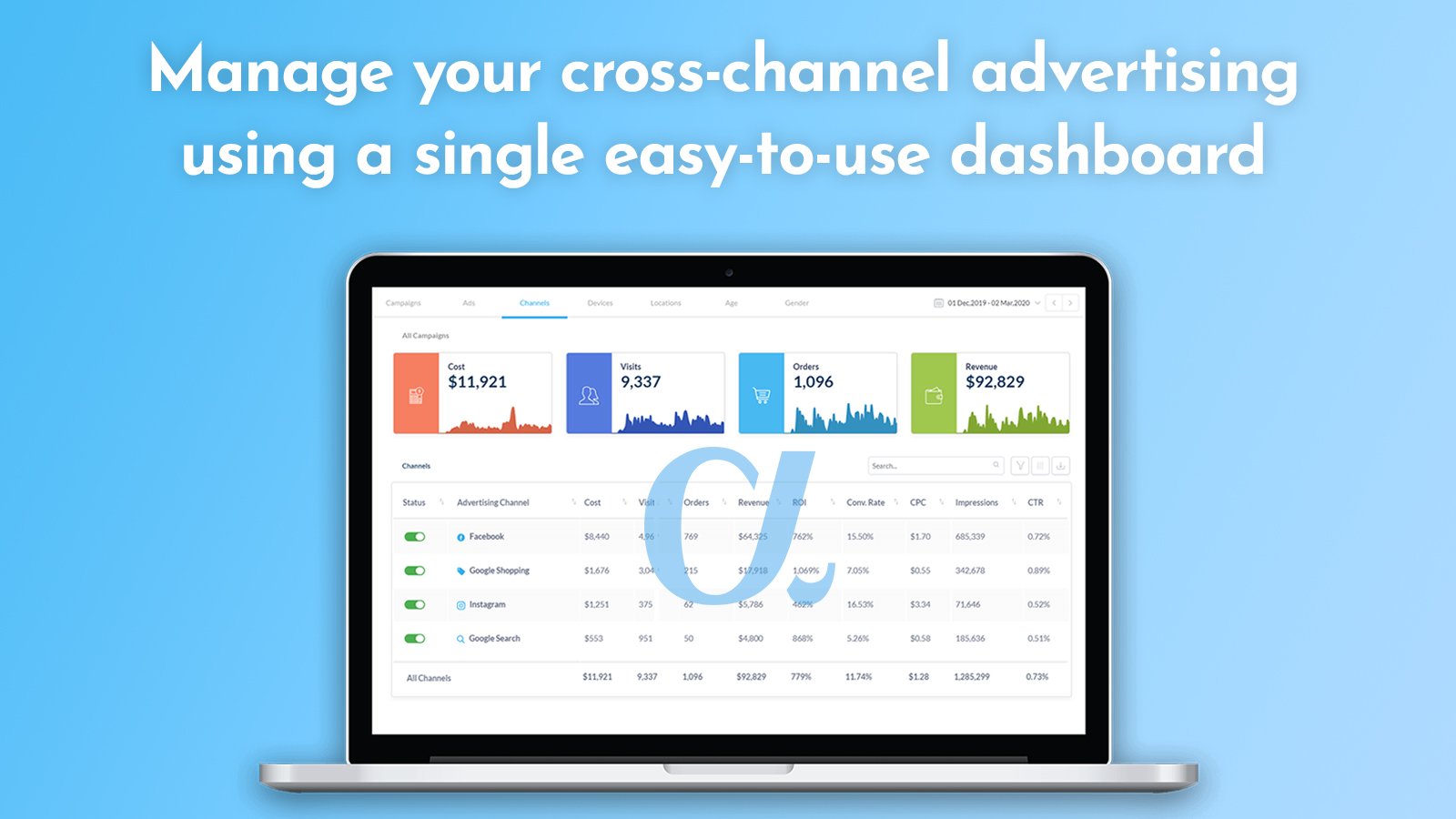 AdScale promises to help you save time and money on your cross-channel advertising efforts. All in 5 minutes/day. While the estimates are a bit too optimistic, the app does use AI to analyze your existing store data and order history to help you put together a customized advertising plan. This way you'll be able to show the right products on the channels where potential customers would be interested in.
This Shopify app creates your ads automatically for all chosen advertising channels. You can either choose the product you want to promote manually or let the tool's artificial intelligence system do this in your place. To make advertising even easier, you can choose from ready-made ad copy templates and even let AdScale make real-time changes.
"The use of artificial intelligence in E-commerce is transforming the industry by predicting shopping behaviors based on deep analysis of the products that shoppers buy and how they buy them. The integration of Artificial Intelligence in e-commerce is increasing the performance standards for many companies. It helps in creating a more personalized experience by performing the analysis of data sets, and by identifying different patterns of consumer behavior.

AI-Based solutions help e-commerce brands in various ways such as Chatbots, Personalization, Visual Search, Product Recommendations, Inventory Management, and more. But we believe that the main benefit of AI in the marketing and advertising space. Deploying an efficient digital advertising process is a critical task for every online business; it is a matter of make or break. But the dynamic nature of the e-commerce businesses, the tough competition, and the variety of advertising channels makes it a real challenge. Unfortunately, most brands are still managing digital advertising manually, either internally or with a media agency, leaving opportunities on the table. 

AdScale weaves the power of AI-Technology into e-commerce advertising by creating and optimizing ads across Google, Facebook & Instagram, generating an average ROAS of 1,000%. With AdScale e-commerce stores can get more sales and revenue, while reducing time and media agency costs.", Mati Ram – CEO AdScale.
Cost
$99/month after the 14-day trial +5% of sales made through AdScale.
Pros
Cross-channel analytics option available
Easy to install and use
Personalized targeting options to send your ads to the right people
Cons
The app can gain too much control over your advertising efforts so you'll need to master its features before using it
Only works for ads on Google, Facebook, and Instagram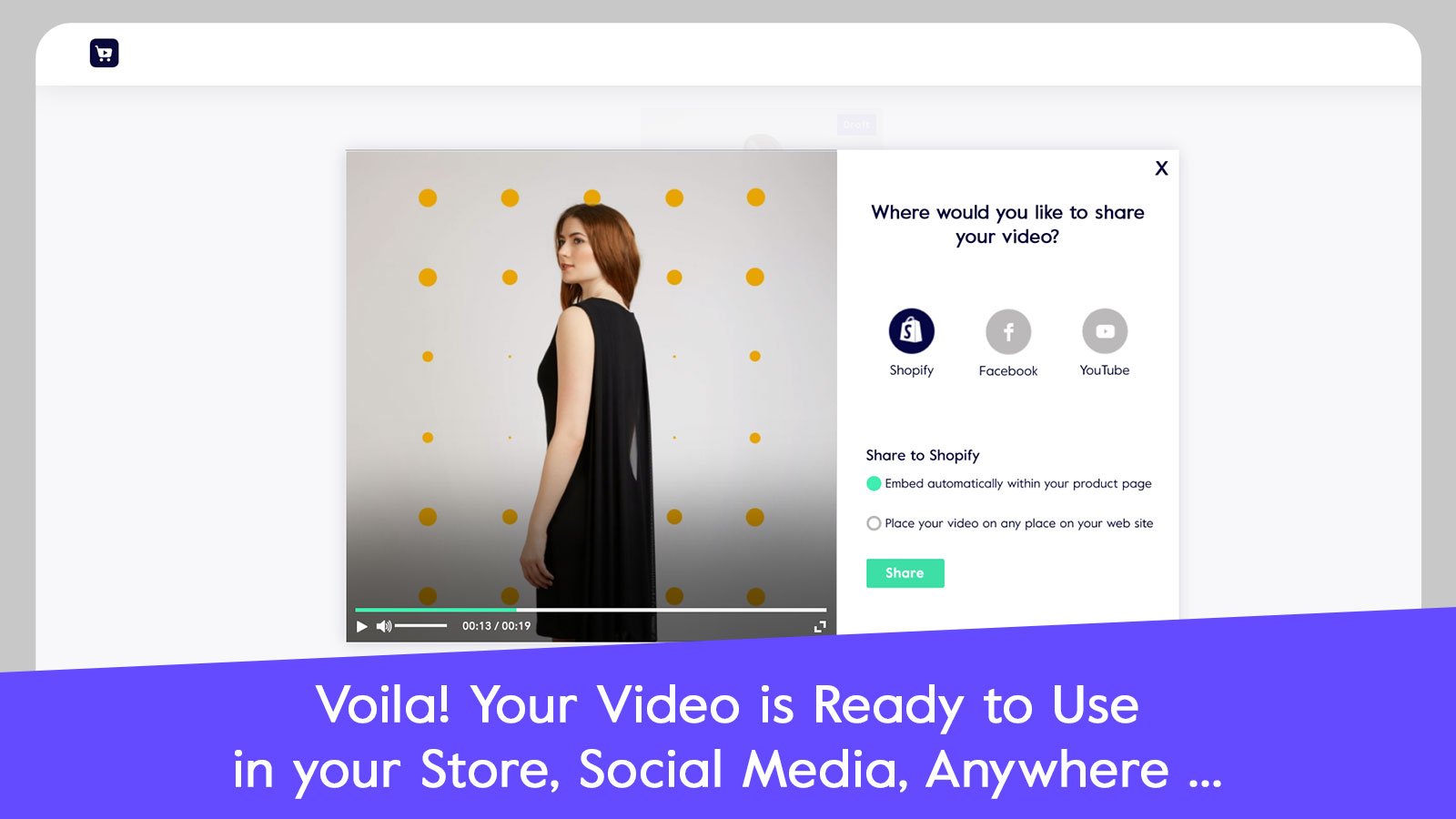 Video creation is often a costly and time-consuming activity that small stores just don't have time for. Videofy is a free tool that creates product videos in your place using the power of AI by repurposing images and metadata. There are many branding, customization, and messaging options to choose from to ensure the videos comply with the rest of your store.
This Shopify artificial intelligence app lets you showcase original videos on your online storefront to increase your visitors' time on site while also presenting special offers that will boost your revenue. All videos can easily be shared via social media or your blog to bring in more views and eventually leads.
Cost
Free.
Pros
Entirely free to use
A variety of video templates to choose from according to your store's needs
Easy and quick solution for your product videos
Cons
Limited features for a video creation tool
Current users would like to see improved video quality in the future
How to choose the right artificial intelligence app for your Shopify store?
For any need you might have as a shop owner, there's bound to be an artificial intelligence tool to help you solve your problems in a matter of seconds. But certain AI-based apps can slow down your store and cause theme conflicts. So the first thing to get in check before you buy any of the apps above is to make sure they're compatible with your store's theme and settings. Write to their customer support team and run an experiment either on part of your store or on a segment of your customers.
Next, comes distributing costs according to your priorities. For smaller stores, you'll want to opt for free or cheaper options while larger stores with thousands of monthly customers need to look into getting a complete AI analytics platform to help with decision making or fraud app to keep any chargebacks under control.
We've reviewed all possible features for the artificial intelligence apps tested above but you need to write down your exact needs. Some factors to take into consideration include:
Can you use the app without needing a developer or tech-savvy professional?
Are there any customization options with regard to how the app's effects will look like on the client's side?
Does the app offer analytics and insights dashboards?
Do you need the tool to be available on mobile devices as well?
Is there any specific machine learning model you want to apply to your data?