It's been a big year for MorphL and, in case you missed anything, I thought I'd share our greatest hits in 2019 for the first blog post of 2020.
By sharing our experience of taking MorphL from R&D to successfully applying AI for growth in real-life use cases we hope to encourage you to reflect on your own achievements and what – and especially who – contributed to them.
The fast-paced world where we, startup founders, live doesn't provide too many opportunities for reflection, so it's up to us to carve out this time and find stillness so we can keep our focus on what really matters.
The Path
At the beginning of the year, we were deeply involved with the European Data Incubator – an 8-month incubation program for big data SMEs and startups in Europe. This is where we had the chance of closely working with JOT Internet Media for one of their data challenges – User Search Intent Prediction.
We graduated from EDI in May 2019 having proved that our core architecture is suitable to accommodate multiple ML models and pipelines, User Search Intent being just one of them. In fact, we published a research paper about it and, as always, made it available as open-source on our Github account.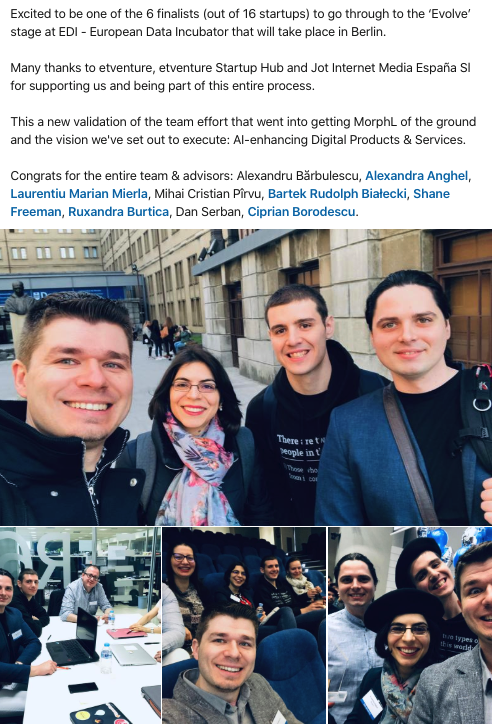 About the same time, we partnered with Mobexpert and Mavericks and started working on another ML model which we called Shopping Stage Prediction. After roughly 3 months of intense R&D work, we had a breakthrough, published the paper, and began setting up the pilot with Mobexpert.
The summer of 2019 was intense, attending the Retail Tech Awards in Barcelona and winning the 3rd place. In July we started a partnership with Orange to deploy multiple AI/ML models and personalize the user experience for their online shop.
Participated in the Retail Tech Awards in Barcelona and won the 3rd place out of more than 100 startups that went through the entire selection process. Great opportunity to meet very interesting companies and entrepreneurs and humbled for the award coming our way! #digital1to1 pic.twitter.com/rcbtDeTIWT

— Ciprian BORODESCU (@cborodescu) June 12, 2019
Then came Techstars Montreal AI which was, without a doubt, the highlight of the year for us!
We had 3 selection interviews in total, all remote.
The first one was all about getting to know the founders and the second interview focused on understanding the product, the market, and challenges. The third interview put us in front of a committee that ultimately decided to invite us to participate in the 2019 cohort of Techstars Montreal AI, taking place between September 9 December 5, 2019.
Congrats to @brunomorency and @realventures for investing in these game-changing AI companies from across the world! Techstars AI demo day showcases second cohort of the Montreal accelerator https://t.co/G3HxSu75xM via @betakit @techstars @iamjohnstokes

— Sunil Sharma (@sunil_extreme) December 11, 2019
In September, Andra Zaharia was invited to present MorphL at
EY Intelligent Automation Regional Conference 2019
and the year ended with
the Techstars Montreal Demo Day
on the 4th of December, in front of 1,000 people.
2019 by the numbers for MorphL
Total Unique Active Predictions (UAPs): 4,293,200
Daily Active Predictions (DAPs): 105,408
3 ML models in production, 2 ML models in pilot
Shopping Stage Prediction Accuracy: 84%
User Search Intent Prediction Accuracy: 82%
Churn Prediction Accuracy: 75%
Up to 200% conversion rate growth, 45% average order increase and 30% ROI for our customers after using one of our AI/ML models.
When I started MorphL back in 2018, after getting the Google DNI grant, I set a 3-year roadmap with specific goals in mind for each year:
1st year – prove the tech
2nd year – prove there's business potential.
We did all of that thanks to an amazing team, for which I'm incredibly grateful, and because we're surrounded by advisors and supporters that believe in MorphL's vision and want to see us succeed in making it easy for people like us to harness the power of AI.
We're all incredibly excited to begin a new year, our third year at MorphL, the growth year.
Wrap Up
In closing, I just want to leave you with this stoic wisdom, from which I've been drawing a lot of clarity and resilience:
All we control is the beginnings of things.
The way we start and we control our first move.
We can make the pitch, but fortune controls whether it's accepted.
We can plan the trip, but not when or if we arrive.
This Stoic tenet inspires me and the entire team to do our very best each day and balance focus with leaving the door open for opportunities to surprise and delight us.
I hope you'll join us in this pursuit.
Let's make AI happen!