Open source software, where users have access to source code, has grown exponentially in the past decade and is driving a transformational shift in the software industry.
Studies show that 65% of companies across industries are using and contributing to open source. In the last couple of years we've seen VMware, Amazon, Microsoft, and even the UK government hire open source leaders and/or create open source programs.
Today, open source is foremost a development methodology, not just a single product, technology, licensing scheme or business model. It is the strategic foundation on which software is developed, delivered and deployed.
When we had decided to start MorphL as an open source project, it simply came naturally for us
Partly(first) because we're a technical team and we've been using a lot of open source resources ourselves and we wanted to show our appreciation by giving back to the community at large. And partly(second) due to the realization that to shift developers' mindset towards building AI-first products, MorphL requires massive adoption which can only be accomplished out in the open.
For us, being an open source means more than just publishing the code on GitHub for everyone to use.
It's a mantra, a way of dealing with R&D by being inclusive and allowing for participatory input from the community, acknowledging that we're all in this together and the power of many trumps that of a benevolent dictator 🙂
We believe that developer adoption will be the number one driver for creating value at MorphL and because it's open source all that value returns to the community. In other words, the community is the most important and crucial factor of a successful open source project such as MorphL. The key challenge is being able to cooperatively improve and support MorphL as an open-source project by engaging the community without controlling, diluting or losing its members.
The fundamental question becomes:
"How does MorphL make money if the technology is free?"
In many ways, open source projects and businesses are opposing concepts which simply should not function. Yet, somehow, they come together to form an incredibly powerful coalition with a vast reach.
Docker, WordPress, Magento and Ember.js are all good examples of open source projects, which happen to have a strong business component.
The primary focus is on creating free, open software and the revenue generation is secondary/separate.
If we look at the typical open source lifecycle of a project, it consists of 6 stages:
Communities and individuals start developing code.
One or more companies/vendors provide structure and invest resources.
Evangelists are being deployed to lead/guide the community.
Monetization plans are put in place. Time, resources and funds are committed.
Commercial open source strategies in place and monetization plans executed.
Companies/Vendors invest in scaling and improvement.
Even if MorphL is in its early days (1-3 stages), we believe that strategizing over the business side (4-6 stages) is the mature way of dealing with things because we're in this for the long run, not for the home run!
The way we see it today, our mission at MorphL (AI-enhancing Products) can be defined in two ways:
Bottom Up
Help developers AI-enhance their products. 

To shift developers'

mindset towards building AI-first products requires massive adoption which can only be accomplished through open source.

Top Down
Help businesses increase revenue by building smarter products for their users. 

There's a huge incentive for companies to build smarter products based on their existing data.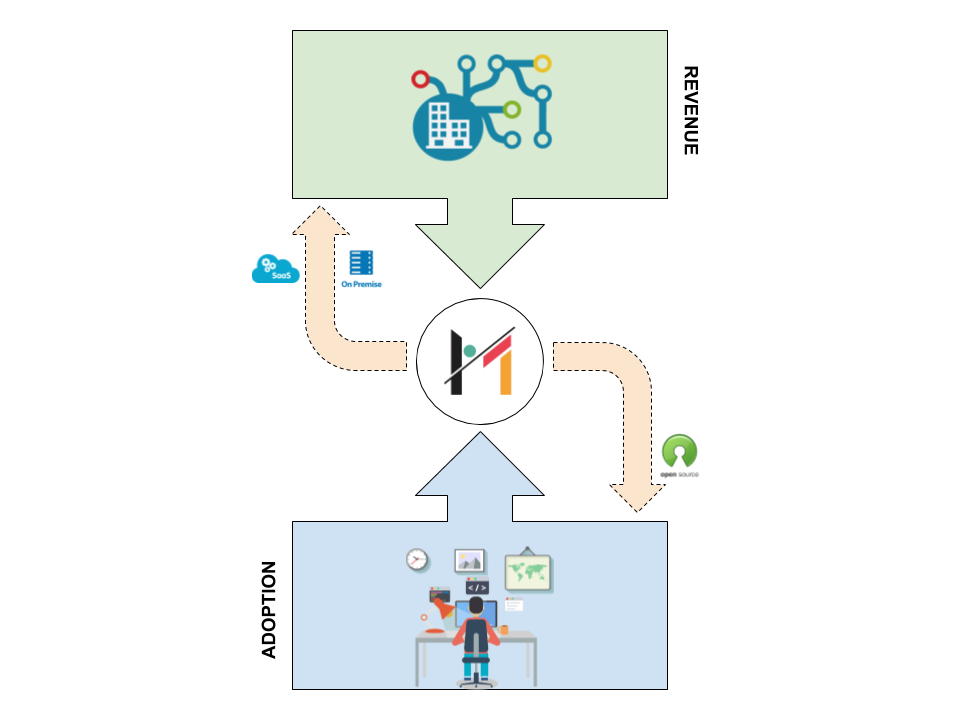 Wrap up
In other words, our goal is to build a sustainable open source business around MorphL, which is easier said than done because we're not only attempting to help developers build AI-first products, but we're trying to accomplish that in a sustainable way.
Our intuition today is that there are a couple of commercial options: SaaS or On Premise, each with its own challenges and we'll write about the two directions in a future blog post.
The grant from Google DNI Fund not only provides us with the much needed fuel to deliver the beta version of MorphL, but it also comes as a confirmation of MorphL's potential to impact the future of UX development in the digital publishing space and that we're entering a new era of product development, one that will be impacted by AI (like many other aspects of our lives).
We know we have a gargantuan mission ahead and we're just getting started, but we all believe that future of product development is data-driven and we're excited to have been given the chance to contribute to it.
Let's Make AI Happen!
---